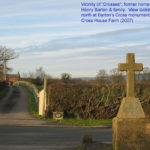 ---
Crosses was the home of Henry Barton (b. 1809) and Elizabeth Swarbrick (b. 1818) from about 1840 until about 1852. Henry and Elizabeth were Henry Harold Harrison Sr.'s great grandparents. The 1841 census records Henry and Elizabeth at Crosses with children Richard (b. 1838), Edward (b. 1839), and Elizabeth (b. 1841); the 1851 census records the same family members at the farm plus new children Elizabeth (b. 1847), Henry (b. 1848), and Dorothy Ann (b. 1850). According to the 1841 census Henry was a farmer of 52 acres.
Crosses is not marked on the 1849 Ordinance Survey Maps of Barton (image, left). However the 1851 census indicates that Crosses was in the general vicinity of Cross House Farm, Sheardly Fold, and Longley Lane, all of which are clearly shown on the old map. Cross House Farm and Longley Lane still exist today. Crosses and Cross House Farm were two different homes enumerated separately in the 1851 census.
One of the landmarks in the area is Barton's Cross (image, top), a religious monument located at the intersection of two country lanes north of Sheardly Fold (today called Barton House). We have not found any information on the history of the monument.
We have not so far found any link between the surname Barton and the village name Barton.
---
---