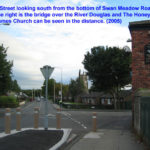 ---
Pool Street, the main north-south road through the neighbourhood of Poolstock, has been home to more Harrison family ancestors than any other single street. The family was a fixture in Poolstock generally, and on Pool Street specifically, from the 1860s until the 1930s and beyond. For a number of generations family members met and married Poolstock neighbours, settled in Poolstock near their families and raised the next generation of family members. In fact, family members reside in Poolstock to this day.
31 Pool Street (1870s)
Joseph Harrison (b. 1835), Ellen Ball (b. 1832) and their children (Edward, Henry, Elizabeth, Maria, Jemima, Ellen, Alice, Margaret) lived on Pool Street for about fifteen years from the early 1870s until the mid 1880s. They moved to Pool Street from nearby Byrom Street (one block to the west). The first record of the family at 31 Pool Street dates to January 1875 per daughter Margaret's birth certificate.
35 Pool Street (1870s)
This was the home of Ellen Talbot, and likely the home of her family, at the time of her marriage to Francis Whitfield in 1879.
46 Pool Street (1900s)
46 Pool Street was the home of Lancelot and Ada Britnell at the time of the birth of their son Lancelot Junior in March 1906. Lancelot Jr. went on to marry Ellen Whitfield, who lived at 70 Pool Street.
64 Pool Street (1880s)
By the time of the 1881 census Joseph Harrison and Ellen Ball had moved to 64 Pool Street. Henry Harrison (b. 1860) recorded Pool Street (no number recorded but probably no. 64) as his residence at the time of his marriage to Alice Barton in 1885.
70 Pool Street (1930s)
70 Pool Street was the home of Francis Whitfield and Elizabeth Harrison when their daughter Doris married John Darbyshire in September 1929. This is also the house where Francis Whitfield died in 1931. His widow, Elizabeth, stayed on at the house and was still living there when her daughter Ellen married Lancelot Britnell in June 1934.
75 Pool Street (1890s)
The Honeysuckle Inn, which is described on its own web page, is located at 75 Pool Street.
90 Pool Street (1900s)
In 1900 Henry Harrison (b. 1860) married his neighbour, Elizabeth Donahue (b. 1874), who resided with her parents at 90 Pool Street. Henry was still residing at the Honeysuckle Inn at the time of the marriage. However Henry and Elizabeth had moved to 90 Pool Street by September 1904 when their daughter Nellie was born and in July 1906 when son Joseph was born. So Henry and Elizabeth may have moved in with Elizabeth's parents around the time he lost the Honeysuckle. We understand that Henry Harold Harrison went to live with his grandfather Joseph around this time, and this move may have been prompted by his father and stepmother going to live with the in-laws. 90 Pool Street may have been Henry Harold's last Poolstock home. His family had moved to 30 Tipping Street by the time baby Gladys was born in 1909.
92 Pool Street (1890s)
This was the residence of William Harrison (b.1838) and Ann Williams at the time of the 1891 and 1901 censi. Also their residence when their son John (b.1873) was married in August 1903. William was Henry Harrison's uncle and John, Henry's cousin, was a frequent patron and sometime employee at the Honeysuckle Inn.
---
Pool Street has been the main north-south road through Poolstock (the area) from the time the area was first developed circa 1850 until today. It is the continuation of Swan Meadow Road to the south of the River Douglas ending at Poolstock (the road). This Ordinance Survey Map from 1894 shows Pool Street much as it would have been when the Harrisons, Donahues, Whitfields, and Britnells lived there.
The Poolstock area was extensively redeveloped sometime in the 20th century and the houses our ancestors inhabited are no longer there. The Honeysuckle Inn and St. James Church are probably the only surviving 19th century buildings on Pool Street.
---
---